Watching the endless parade of Rio somersaults and splashes, and javelins hurled in long arcs across an Olympic-sized clearing, after marveling how much more an athlete Usain Bolt is compared to his world sprinter colleagues, similar to how Mozart stood next to his composer contemporaries, and the same for Michael Phelps except Phelps is less Mozartian and more Beethovean, less perfection and more passion, after all that, and so much more astounding physical genius on display (& in super slomo), I could not help but wonder in which Olympic sports would our Great Composers have participated had they not chosen their artistic path in life, for surely, what it takes to be a Great Composer – endless stamina, unbreakable determination, Sisyphean dedication, etc. – is likewise required to be an Olympic champion?
So here are some Olympians who got away, stolen from sports by music, but had they followed their sport they might one day have stood on the victory podium, biting their gold medal.
Equestrian: Individual Dressage, Bronze Medal – Wolfgang Mozart
Mozart was a horseman. He rode his horse nearly every morning for exercise. His doctor recommended it. Riding stabilizes the trunk, the abdominal, pelvic and back muscles. A strong core, yes, sounds like Mozart. We can see him high in the saddle, clip-clopping over the cobblestoned streets of Vienna, his pony's four-beat gait sounding rather Papagenoish as they passed St. Stephen's, illuminated by the dawn's misty golden light. And why no Gold for Wolfy? Alas, Mozart did not love riding, and one must love to be great, so when the stable fees seemed too much "I sold my nag for fourteen ducats."
Track & Field: Hiking (Demonstration Sport), Gold Medal – Richard Wagner
Wagner was a heroic hiker, a Wotan walker, powering forward on forceful legs. Any one of his epic dramas in the great outdoors will illustrate. Here's one. Wagner and his rowdy friend Theodor Uhlig trekked with a small group 55 miles east from Zurich to St. Gallen, then south 22 miles taking the treacherous if heart-stoppingly beautiful Ricken Pass on the way to the Lichtenstein border, soon not walking so much as climbing up the steep rocks of Santis Peak. This was what Wagner sought, this mountain exhilaration, etching his memory with a leitmotiv, and at this point, a member of the party, the German poet and musician Karl Ritter, went dizzy with fear, the heights too much to endure, he collapsed. Wagner and Uhlig, the young fiddler who would soon die at 30, found a mountain hut to deposit their friend where others could later help him down the mountain safely, and hurried back to the hike, which took them through the Wahlkreis mountain town of Eschenbach, then down into the valley of Lake Zurich, and northward all the way to an exhausted return to Zurich, about 200 miles is my estimate, not including the climbing.
Hiking is not an Olympic sport. It never has been, in the modern Olympics anyway. But if ballooning could be a demonstration sport, as it was in 1900, why not hiking? It took Wagner to greater heights than any hot-air balloon.
Track & Field: Hiking, Bronze Medal – Percy Grainger
Another prodigious man of the trails, Grainger often took hikes of several dozen miles in the driest habitable arid zones on the planet, the Australian Outback. In his time, he would have been called a health nut, for he never smoked or drank alcohol, and in midlife the composer of The Walking Tune, stopped eating meat.
Gymnastics: Horizontal Bar, Gold Medal – Johannes Brahms 
As a young man in his early twenties, having not yet started to shave, Brahms often visited the Schumann family in Düsseldorf, and later, once Robert was hospitalized, Brahms lived in the Schumann home, in a third floor apartment. To amuse the Schumann girls, most especially Julie, who was 12 years younger than Johannes and the daughter most like their mother, Brahms would do gymnastic moves on the bannister. Hard to imagine old blue eyes with his biker beard and proud paunch, up on the horizontal bar? But in his young manhood, Brahms was elastic as a gibbon, his dense arms balanced on the stair railing. Far below in the foyer, Julie Schumann gasped, frightened and enthralled, as Johannes lifted himself on those arms of pure music, pushed off, turned a backflip, and landed on his feet at the feet of the flabbergasted Julie!
When Clara heard about it from her excited children she told Brahms that he must stop, please.
Sailing: One Person Dinghy, Silver Medal – Nikolai Rimsky-Korsakov
Rimsky served in the Russian navy and in 1862 he set sail aboard a military clipper ship for a 2-year-8-month cruise in the Atlantic. He saw London, went ashore in Rio de Janeiro, was off the coast of South Carolina during the Civil War, docked in New York Harbor in 1863, and witnessed Niagara Falls. The great symphonist wrote his 1st Symphony while aboard the Almaz. It was his most exhaustive effort on a work, but perhaps not his most momentous musical moment, hence the Silver Medal.
Baseball (returning to Olympic competition at the 2020 Tokyo Games): Gold Medal – Charlie Ives
Ives was captain of the baseball team at Yale, after years of stellar play at shortstop for the Hopkins Grammar School. For Ives, nothing was more fun than playing baseball, though playing the organ came close. The game had such a presence in Charles' life he wrote several pieces on baseball, including Baseball Take-Off, Some-Southpaw Pitching, All the way around and back, Old home day, along with unfinished sketches Take-off #3: Rube trying to walk 2 to 3!!, Take-off #7: Mike Donlin–Johnny Evers, and Take-off #8: Willy Keeler at the bat.
Decathlon: Silver Medal – Felix Mendelssohn
Felix Mendelssohn could, according to his godson Ignaz Moscheles, "throw my ball further than anyone else, and he could run faster too." That should come as no surprise. Mendelssohn was good at everything he tried, whether it was water coloring or gymnastics, fugues or swimming. He handed a horse as well as he handled harmony. Naturally, he threw the ball well, a regular Koufax.
Actually Felix looks more like Tim Lincecum.
Ball sports, by which I mean golf and tennis, were played by any number of Great Composers, to varying levels of skill and interest. 
Tennis: Men's Singles, Silver Medal – Benjamin Britten
Benjamin Britten was reportedly gritty with a racket in hand. One defeated opponent once observed, "Ben was intensely, remorselessly competitive in an almost sadistic way. When you were beaten by him at tennis you literally felt that he'd been 'beating' you."
Benjamin Britten "beating" Peter Pears in lawn tennis at their home The Red House in Aldeburgh. 
Sergei Prokofiev: Did not qualify for Olympics
Prokofiev flirted with tennis in his mid-20s while he was writing The Gambler, his unforced error of an opera composed just as revolutionary Russia was serving up for the match with two service breaks against the Tsarist autocracy, 1917. Typical of the Great Composer during that time in his life, the last tennis matches he ever played were little more than shouting matches of argued calls and poor sportsmanship. Prokofiev's true sporting passion was chess, and he played several chess masters, including Jose Raul Casablanca, the reigning World Chess Champion from Cuba. Prokofiev employed the "Queen's Pawn Game" to beat the champ in 43 moves.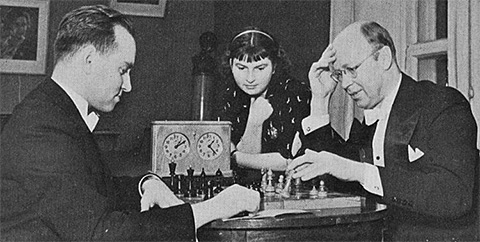 Prokofiev (right) vs. David Oistrakh during a tournament in Moscow with violinist Liza Gilels (sister of pianist Emil Gilels, and wife of violinist Leonid Kogan) looks on.  
Cycling: Men's Road Race, Bronze Medal – Edward Elgar
Elgar took up golf at the Worcestershire Golf Club, which is still operating today, and played regularly. The average score on the hardest hole of the Worcestershire course is 6.48 for the par 5 17th. EDU couldn't play but he did adopt the golfer's grief. One day his wife Alice wrote in her diary, "E. to Golf. Home very dejected.!" But Elgar was a far better cycler, and loved to bike. Perhaps his most memorable ride was made the day he learned he was to be knighted. He, who had been unable to afford college, was now to be Sir. The first thing he did was hop on his Royal Sunbeam he called "Mr. Phoebus" and peddle 25 miles to his father's house to share the news with him.
The 12-tone master offers tennis tips to young ball strikers on a Beverly Hills court.
Tennis: Men's Singles, Bronze Medal – Arnold Schoenberg
When Arnold Schoenberg lived in his late-life adopted hometown of L.A., he played tennis at least every week if not more. It was his great non-musical obsession. He refused even to miss a tennis match on the day his son was born. On the court (and in the pool and at the ping pong table) Schoenberg showed himself to be no natural athlete, awkward and intense, "overly eager" said a friend, "choppy," overthinking the game, in fact, carrying the game right off the court and into music. Mr. Atonality created a music notation system for tennis, by recording the moves of his tennis games, from "put away" to "drop shot" to "Smash in the net."
Tennis: Men's Singles, Gold – George Gershwin
During a long sunny stretch in Hollywood, 1936-37, Schoenberg and Gershwin competed in friendly tennis matches every few days at Gershwin's North Roxbury Drive home. Schoenberg was full of praise for Gershwin as a composer; he would have done the same had they met at the Olympic Tennis semi-finals. "George Gershwin was one of these rare kind of musicians to whom music is not a matter of more or less ability. Music, to him, was the air he breathed, the food which nourished him, the drink that refreshed him. Music was what made him feel and music was the feeling he expressed. Directness of this kind is given only to great men."
As a tennis player, Gershwin was said to have been no less "relentless" than the Viennese Serialist, but "chivalrous" (no kidding), and graceful as a dancer where Schoenberg was gangly as a 63-year-old intellectual. Gershwin had an athlete's body and agility. Film composer Albert Sendrey described the two players: "Gershwin expresses linear counterpoint in his strokes, whereas Schoenberg concentrates on mere harmony, the safe return of the ball, the more than physical aspect of reaching a well-placed drive in the far corner of his side; he no longer places his returns, while George is more careful than ever to achieve clarity of his intentions." 
Gershwin hired a personal body trainer and took daily hikes with him in Franklin Canyon. He could hit a golf ball 250 yards and once scored an 86 at the old Rancho Golf Club in Sawtelle, a championship course, and became swallowed up by the game. "If I expect to write more music," he joked, "I shall have to curb my love for golf, unless some farseeing golf club will place a "Steinway at each tee."
As a boy, Gershwin's heroes were Jim Thorpe and Christy Mathewson, and he grew into perhaps the most athletic of all the Great Composers. Ives might have out-played him on the diamond; Elgar might have out cycled him; Mendelssohn may have thrown a ball farther, but Gershwin had the instinctual physical genius of a Babe Ruth or a Jack Dempsey, an unconscious gift for improvisation (the jazz in him), the kind of instinct nearly all great athletes possess.
Leave a Comment